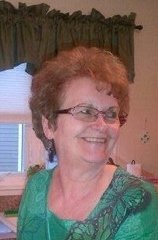 Obituary of Mary Gainey
Mary "Pat" Gainey, age 76, of Southampton and formerly of Browns Mills, passed away peacefully at home on Wednesday, August 9, 2017. She was born in Jacobstown to the late Ernest and Mary (Idell) Goff on March 17, 1941. Pat married the love of her life, Ronald D. Gainey on December 26, 1960 and later had three children. Pat spent her early years raising her family and just loved being with her children and grandchildren. Her greatest joy was being a Mom and Grandmother. She also enjoyed home decorating, flowers, gardening and shopping. Pat was a volunteer at the New Lisbon Developmental Center and loved being able to help others in need. She was a wonderful mother, sister, grandmother and great-grandmother who will be deeply missed.
Pat is predeceased by her parents and her beloved husband Ronald D. Gainey, Sr.
She leaves behind her three children, Ronald Gainey, Jr. and his wife Sheryl of Southampton, Gregg Gainey and his wife Brenda of Southampton and Stephanie Gainey-Hershberger and her husband Dan of Clementon; her seven siblings, Ernie Goff of Florida, Joe Kelly of Florida, Gloria Mullen of Florida, Samantha Morris of Florida, Jannette Stevens of New Mexico, Beth Cass of Hamilton and Cheryl Goff of Bordentown; her brother-in-law Roger Meyers and his wife Brenda of Pemberton; her four grandchildren, Thomas Jamison (TJ) and his fiancé Lindsay, Ryan Gainey and his wife Kelsey, Brooke Gainey and Nicholas Braciszewski; her two great-grandchildren, Blake and Greyson; along with several nieces, nephews and friends.
Relatives and friends are invited to gather on Tuesday, August 15, 2017 from 10:30AM to 12:30PM at the Tilghman Funeral Home, located at 52 Main Street, New Egypt NJ 08533. A funeral service will begin at 12:30PM. Interment will follow at the Brig. General William C. Doyle Veterans Memorial Cemetery in Wrightstown. In lieu of flowers, donations can be made in Pat's memory to the Alzheimer's Association, P.O. Box 96011, Washington, D.C. 20090-6011.