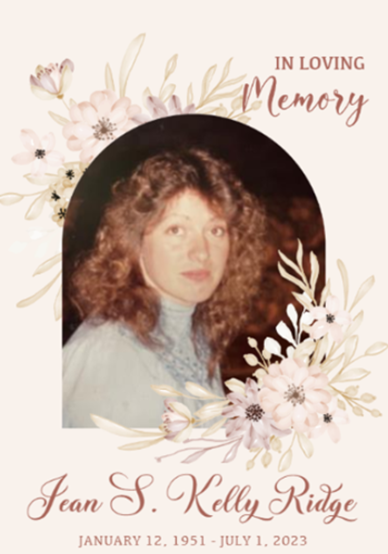 Obituary of Jean S. Ridge
Please share a memory of Jean to include in a keepsake book for family and friends.
Jean S. (Kelly) Ridge, 72, passed away peacefully on July 1st, 2023. Jean is preceded in death by her father Gilbert J. Kelly Sr, Mother Charlotte Kelly, and Brothers Gilbert Kelly Jr and William Kelly and sister in law Susan Kelly. She is survived by her husband, Martin L. Ridge II, Her two daughters and (husbands) Victoria Ridge (Kris Shaw), Veronica Ridge (Brian Wilcox), her son Martin (Luke) Ridge III and wife Kait Ridge, her five grandchildren, Liv, Kaylee, Braelyn, Isabelle, and Savannah. Her brother John (Cecilia) Kelly. Nephews James (Brian), Patrick (Ashley), Matthew, Tom (Jana), Dayln, Nieces Jen S, Heather, Lindsay, Jen M., and many other beloved extended relatives. Jean was born on Jan. 12, 1951 in Pittsburgh, Pa to loving parents Gilbert J. Kelly and Charlotte J. Kelly. She was the oldest of four siblings and loved her brothers, Gilbert Jr., William, and John dearly. As a child she spent a lot of time on her grandparents' farm in Imperial, Pa living a wholesome life and caring for her family. Her family moved to Levittown during the Steel Mill boom where her pure heart and hard work ethic led her to meet many friends. She was a graduate from Pennsbury High School and the Tech School where she studied restaurant management. She was very talented and held many different jobs including AMC car sales in Bensalem, waitressing, open hearth at the Steel Mill, and partner in her husband's business. Her most important purpose came next after meeting the love of her life Martin…being a mother. Momma Bear was a term used both jokingly and seriously often! Her love for her family was unmeasurable and she was always sure to keep her kids in line to make sure they grew up to be good people. Jean could always light up a room, her bright smile and kind eyes always made everyone feel welcome and cared for. You had to be careful though, if you ever complimented Jean on anything of hers (even food) you'd have to deal with her trying to give it to you for the remainder of your visit! She had an exquisite eye for beauty and found much of it in nature. She loved hikes with family looking for driftwood, caring for orphaned animals, trips to the Crystal Shop in Soho New York to add to their rock and gem collection and staying up all night decorating from scratch on Christmas eve with her husband to create a Christmas wonderland for their children to wake up to! Enjoying a passion for the outdoors with her husband, they would go on salmon fishing trips in upstate NY, crabbing at the Jersey Shore, deep sea fishing trips with the ol' timers, and even big game hunting trips in Wyoming. She followed that passion by going to taxidermy school and becoming involved as the Treasurer of the Pennsylvania Federation of Sportsmen and Langhorne rod and gun club. With her children grown, Jean and her husband followed their call from nature and moved to rural Sullivan County Pa. After surviving a brain aneurysm in 2001, she found much peace and comfort in the quiet mountains. Enjoying summers with her grandchildren and sharing in the beauty of nature with them, swimming in ponds and creeks, and teaching them about baking and cooking all types of wonderful foods. Tough as nails with a heart of gold described Jean well. She proudly hauled and stacked firewood with the best of them as she always needed her ideal temp of about 86º-90º in the family room all winter. That was the setting for Jean's absolute favorite thing in the world, being surrounded by her loved ones, all set up on couches, blankets, and beds watching movies and having one big sleepover. Even after her major stroke in 2017 her only goal was getting strong enough to be able to cook and bake for people, and to help her husband with all the things they loved to do on their property. A fighter and lover till the end, she toughed out the worst of days hoping not to burden the ones she loved most and at the same time still trying to give you her meal in order to make sure you ate enough. Jean respected the beauty, but didn't much care for the irony of cut flowers, so in lieu of flowers, please plant some or give the gift of live ones to someone you love, take a walk or hike and enjoy the beauty of nature. A visitation for Jean will be held on Saturday, July 8, 2023 from 10 AM to 12 PM at Wade Funeral Home located at 1002 Radcliffe Road, Bristol, Pa 19007 with a funeral service starting at 12 PM at the the funeral home. Interment will immediately follow at Resurrection Cemetery located at 5201 Hulmeville Road, Bensalem, PA 19020. A celebration of life following the interment will be held at The Borough Pub, 1800 Farragut Ave Bristol, PA. 19007. All arrangements are under the direction of Tilghman Funeral Home located in New Egypt, NJ.